ARCHIVES
April 2009
January 2009
March 2008
February 2008
January 2008
December 2007
October 2007
August 2007
July 2007
May 2007

CONTACT
About this blog: random thoughts, discoveries, ramblings. Much of this was originally composed as email to a local history mailing list, rather than being written specifically for publishing, so it's a little disjointed. I figured it was better to get it out to everyone else in rough form rather than not at all.

If you have a common interest in anything, or can add further to the information I've provided here, please contact me.

I noticed today that the signal box at Somerton (just south of Roxburgh Park station) has disappeared. I knew some time ago that it was going to be demolished - even though it is heritage listed - but because the Somerton Road railway overpass is pretty much complete I thought they'd found a way to preserve it. I guess I was wrong.

It's not the prettiest bit of infrastructure around, but it was working there for nearly 50 years. This photo was taken in early June 2007: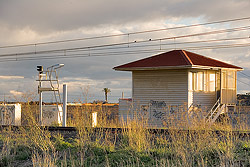 UPDATE:Thankfully it wasn't demolished; it has been moved to Moorooduc to become part of a railway museum.





Related posts:
[Somerton] Daniel Mackenzie - Somerton School
[Somerton] National Archives of Australia: Somerton related queries
[Somerton] Newspaper ad from 1888
[Craigieburn / Mickleham] I found the Robert Burns Hotel houses that were demolished
[Somerton] Oldest surviving building in Somerton?
[Somerton] Located more photos of Somerton station & area
[Craigieburn] Several rural properties demolished for development