ARCHIVES
April 2009
January 2009
March 2008
February 2008
January 2008
December 2007
October 2007
August 2007
July 2007
May 2007

CONTACT
About this blog: random thoughts, discoveries, ramblings. Much of this was originally composed as email to a local history mailing list, rather than being written specifically for publishing, so it's a little disjointed. I figured it was better to get it out to everyone else in rough form rather than not at all.

If you have a common interest in anything, or can add further to the information I've provided here, please contact me.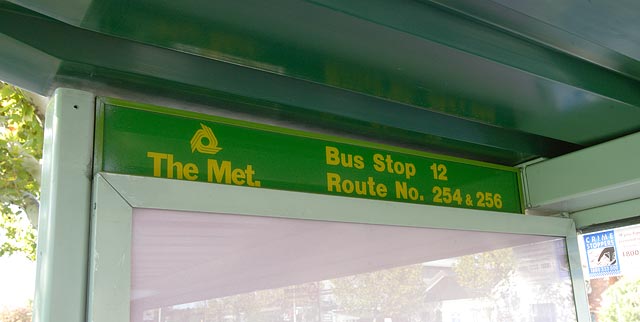 I was walking past a bus shelter in Carlton North and this caught my eye. It's not super old, but a sign saying "The Met" and featuring the three way logo is looking decidedly stale in 2009. I had my camera out so I snapped a quick shot, then kept walking.

Ten minutes later as I was returning to my car, I noticed someone changing the signs on the shelter to something more modern. The old sign was gone, literally minutes after I had taken a photo. Very lucky!