ARCHIVES
April 2009
January 2009
March 2008
February 2008
January 2008
December 2007
October 2007
August 2007
July 2007
May 2007

CONTACT
About this blog: random thoughts, discoveries, ramblings. Much of this was originally composed as email to a local history mailing list, rather than being written specifically for publishing, so it's a little disjointed. I figured it was better to get it out to everyone else in rough form rather than not at all.

If you have a common interest in anything, or can add further to the information I've provided here, please contact me.

Here's some search results that pertain to Somerton (at least a couple are new, never seen them before)


Somerton, 'Somerton Inn'
1946
record located in Sydney
barcode 3532551

Suspension of Fawkner Somerton train
1955
record located in Melbourne
barcode 3249489

Somerton - Post Office and related history
c1901 - c1988
record located in Melbourne
barcode 1351972

Somerton Post Office
1866 - 1986
record located in Sydney
barcode 3259112


I suspect the Somerton Inn record may be for a Somerton in a different state, or at the least the year is bogus (the date range is a rough guide and sometimes when you look at the record it's completely off). It is currently closed so I have submitted an application for access.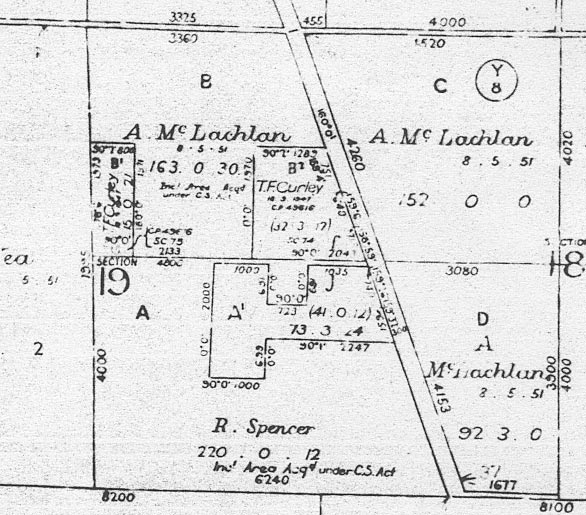 I noticed the 1960s Yuroke Parish map has a little section near Dunhelen Lane Yuroke that has a couple of unusually shaped blocks allocated to "T. F. Curley" and the text "Incl Area Acqd under C.S. Act." The years the land was allocated appear to be 1941 and/or 1947 (which is also unusual - most or all of the rest were in the 1800s) so perhaps that was some sort of returned soldier's scheme? (C. S. = Closer Settlement perhaps??)

I found reference to WWII enlistment records for a THOMAS FRANCIS CURLEY born 28 Aug 1914 in the national archives. If he were alive today he would be 93.

Does anyone know of this name? Just curious because it is an unusual and relatively recent entry on the map and seems to be exclusive to this one name.

There are also a few hits on Google for that name, in published books.






I was saddened a little the other day when I realised that a path lined with mature trees leading to a new playground (at Highlands, on the southern side of Craigieburn Rad) used to be someone's driveway. I guess it's better than just cutting down the trees.

Here's an aerial photo showing the cluster of houses around Craigieburn Road, I have given each one a number: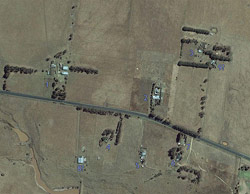 (Click for full sized image)

I count 7 separate properties, possibly 8 (looks like it has a separate driveway but it may be part of property #4). Property #4 is the one that has been replaced by a playground.

It appears property #7 was already demolished then, this may be a way to date the image. Could there have also been something immediately to the east of #3? Looks like a different parcel of land to #3.

If they're all separate then that would make it 9 properties that will be levelled soon...

UPDATE: Within a few days prior to 17th January 2008 property #5 was demolished. Only #6 and #2 remain.

UPDATE #2: House #6 was demolished in December 2008. Newspapers from 1906 were found underneath the wallpaper. A weatherboard property further west was also demolished around the same time.






I've found a collection of photos from a glider society that were based in Beveridge in the 1930s, wanted to find out more about where it was located.

http://www.nla.gov.au/apps/cdview?pi=nla.pic-vn3822540&referercode=cat

Some of the 90 photos show different locations but a large number are taken in Beveridge. Looks like they used Mt Fraser for launching.






I came across an aerial photo service that had slightly stale (around 2003ish) photos available: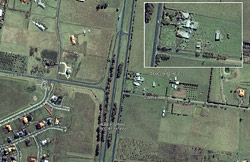 (Click for full sized image)

On the north-east corner of Hume Highway and Summerhill Roads were buildings demolished to make way for the bypass. This would have been where the Robert Burns Hotel originally stood. Looks like two distinct houses, one fronting the highway and one fronting Summerhill Road.

Even though the houses have been demolished and the land regraded there is still a portion of the land which appears to have been untouched (it still has a shed on it), so who knows, there may still be old coins lurking in the ground!

There was also a house slightly further south that was demolished. Can also see the farm complex that was demolished to create the newer area of Highlands off Craigieburn Road.