ARCHIVES
April 2009
January 2009
March 2008
February 2008
January 2008
December 2007
October 2007
August 2007
July 2007
May 2007

CONTACT
About this blog: random thoughts, discoveries, ramblings. Much of this was originally composed as email to a local history mailing list, rather than being written specifically for publishing, so it's a little disjointed. I figured it was better to get it out to everyone else in rough form rather than not at all.

If you have a common interest in anything, or can add further to the information I've provided here, please contact me.

I saw a historical image on PROV earlier today, probably from around the mid 1920s to 1930s. Since I was heading into that area I took a current photo from a similar position. The train line, boom gates and overhead wiring are long gone, but the commercial buildings in the background are apparently older than their current facade would suggest...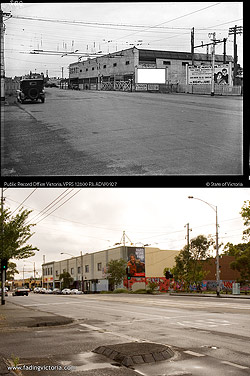 There is also another image of this location from a different year available at http://www.prov.vic.gov.au/images/12800/12800-p0003-000012-100.asp






I noticed today that the signal box at Somerton (just south of Roxburgh Park station) has disappeared. I knew some time ago that it was going to be demolished - even though it is heritage listed - but because the Somerton Road railway overpass is pretty much complete I thought they'd found a way to preserve it. I guess I was wrong.

It's not the prettiest bit of infrastructure around, but it was working there for nearly 50 years. This photo was taken in early June 2007: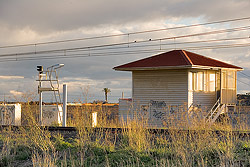 UPDATE:Thankfully it wasn't demolished; it has been moved to Moorooduc to become part of a railway museum.






I found some more images of Somerton station and the surrounding area on PROV. They have a very strange search system where if you do a main search you may not get back every result, or you only get partial listings. I asked them for assistance and was directed to another database:

http://proarchives.imagineering.com.au/index_search.asp?searchid=41

This one from 1899 clearly shows several buildings including the station, and possibly Somerton Road itself? If I've got my bearings right this would have been taken from the south-west corner of the crossing.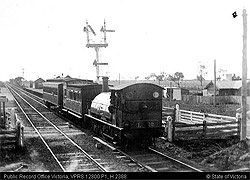 Click for full sized image: http://www.prov.vic.gov.au/images/12800/12800-00001-000095-010.asp

---

This one looks like it's taken high up (from a signal arm?), probably just south of Somerton Road with Campbellfield and Fawkner visible in the distance. Going on the loco I think it would be dated 1950 or later: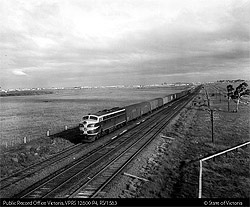 Click for full sized image: http://www.prov.vic.gov.au/images/12800/12800-P0004-000111-280.asp

There are 11 results in total, I won't link them all here.