ARCHIVES
April 2009
January 2009
March 2008
February 2008
January 2008
December 2007
October 2007
August 2007
July 2007
May 2007

CONTACT
About this blog: random thoughts, discoveries, ramblings. Much of this was originally composed as email to a local history mailing list, rather than being written specifically for publishing, so it's a little disjointed. I figured it was better to get it out to everyone else in rough form rather than not at all.

If you have a common interest in anything, or can add further to the information I've provided here, please contact me.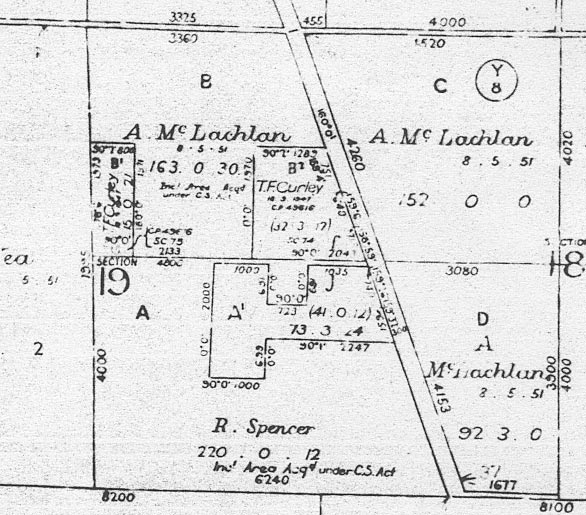 I noticed the 1960s Yuroke Parish map has a little section near Dunhelen Lane Yuroke that has a couple of unusually shaped blocks allocated to "T. F. Curley" and the text "Incl Area Acqd under C.S. Act." The years the land was allocated appear to be 1941 and/or 1947 (which is also unusual - most or all of the rest were in the 1800s) so perhaps that was some sort of returned soldier's scheme? (C. S. = Closer Settlement perhaps??)

I found reference to WWII enlistment records for a THOMAS FRANCIS CURLEY born 28 Aug 1914 in the national archives. If he were alive today he would be 93.

Does anyone know of this name? Just curious because it is an unusual and relatively recent entry on the map and seems to be exclusive to this one name.

There are also a few hits on Google for that name, in published books.





Related posts:
Does anyone know where this sign is/was? Crossroads at Mickleham