ARCHIVES
April 2009
January 2009
March 2008
February 2008
January 2008
December 2007
October 2007
August 2007
July 2007
May 2007

CONTACT
About this blog: random thoughts, discoveries, ramblings. Much of this was originally composed as email to a local history mailing list, rather than being written specifically for publishing, so it's a little disjointed. I figured it was better to get it out to everyone else in rough form rather than not at all.

If you have a common interest in anything, or can add further to the information I've provided here, please contact me.

Does anyone remember this sign?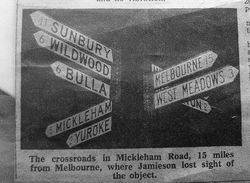 (Click for full sized image)

I can't remember the exact source of this pic but I think this was from a 1970s newspaper article about a UFO sighting.

My best guess based on the place names, direction and distances is that it was located at the junction of Somerton and Mickleham Roads. I think the bottom sign that is obscured says "SOMERTON" - any ideas what the top might say? It looks like it starts with "H" then possibly "I" or "L".

Does anyone remember this crossroads?

Here's a similar sign which still exists, at the western end of Craigieburn Road: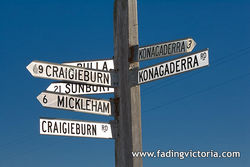 (Click for full sized image)

You can see where a sign was previously attached, just above "KONAGADERRA" on the right hand side. I wonder what it was?

On the other side of the "KONAGADERRA" sign (not visible in this image) you can see the number "2" underneath the current "3" - presumably an older sign with the distance in miles...

UPDATE: After seeing this image from 1956 it's apparent that the hidden sign at the top says "HUME HIGHWAY"





Related posts:
[Carlton] Outdated sign at bus shelter disappears minutes after I photograph it
[Yuroke] Does anyone know who T. F. Curley (circa 1940s) is?
[Craigieburn / Mickleham / Greenvale] Aitken Hill
[Craigieburn / Mickleham] I found the Robert Burns Hotel houses that were demolished