ARCHIVES
April 2009
January 2009
March 2008
February 2008
January 2008
December 2007
October 2007
August 2007
July 2007
May 2007

CONTACT
About this blog: random thoughts, discoveries, ramblings. Much of this was originally composed as email to a local history mailing list, rather than being written specifically for publishing, so it's a little disjointed. I figured it was better to get it out to everyone else in rough form rather than not at all.

If you have a common interest in anything, or can add further to the information I've provided here, please contact me.

I found a photo of the Inverlochy Castle Hotel in the book "Pretty Sally's Hill: A History of Wallan, Wandong, and Bylands" by J. W. Payne.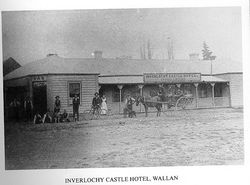 (Click for full sized image)

What it looks like today: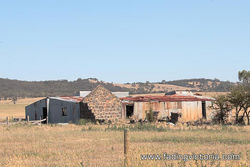 (Click for full sized image)

If you look at the first photo, to the very left there is a high pitched roof to the rear of the weatherboard hotel which could possibly be the bluestone ruins that are still there today. Stables perhaps?





Related posts:
[Craigieburn / Mickleham] I found the Robert Burns Hotel houses that were demolished